Soundmax Electronics Ltd
Our veteran design team develops 8 new products every year
OEM/ODM services | 7,000sqm factory
Sourcing Event

Magazine
Contact Supplier:

Add to Basket
Mr Wu, Roy
Marketing Manager
Avg Response Time: More than 72h
Follow Supplier:

Follow Me
Company Information
Research and Development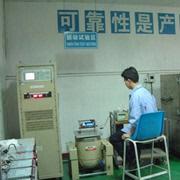 Vibration testing
Profile:
All Software & Hardware are developed in-house.
No need to subcontract to other Software House. Able to develop the market required function/features within the shortest time.

This Verified Supplier's Business Registration profile has been independently verified with relevant government agencies
Supplier and product information updated May 10, 2017.
Submit your Buying Request with TradeMatch


Fast and easy to use

Receive tailored offers

Compare quotations
Verified Manufacturer

The business scope of this supplier's independently verified Business Registration, as licensed by relevant government agencies, allows it to manufacture goods. View BR Profile
Supplier Capability Assessment

This supplier has a supplier audit from an independent 3rd party. View details

Click photo to download report
Back to Top